I'll admit, while I have several *cough 65+* pairs of shoes, I'm rough on all of them, even the pretty ones. In addition to my caveman-like approach to shoe treatment, the fall and winter weather is an extra dose of rough on footwear.
However, there are a few styles that can stand both me and mother nature and I've shared my favorites below!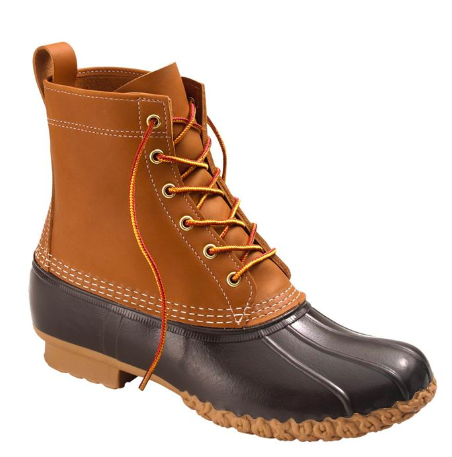 (Bean Boot link here)
Coming in hot at #1 is my ride or die… the BEAN BOOT. I've had my pair since freshman year of college and let's just say that almost a decade later, they're still in good shape. They're the perfect casual fall/winter bootie as they can withstand rain/dirt/mud/unsavory substances and look good while doing it! I tie mine around my ankle but you can lace them all the way up or do that twisty, curly thing (tbh, I don't know what that's about but I've seen other ladies do it.) I always pair mine with taller socks to add more of a layered look.
The price tag is not as pretty as I'd like but they've more than paid for themselves over the years so I recommend you grab yourself a pair. Also, L.L. Bean is awesome about offering promos and discounts to new customers or email list subscribers!

(Boot 1 Link . Boot 2 Link . Boot 3 Link)
Second on our list is for our workin' ladies! I'll admit, winter work footwear presents a major challenge. If you have any sort of walking commute, it's even harder. BUT fear not! I found these solid booties that pair well with dresses, skirts, and pants. These options are not only cute and super work appropriate, their pricetag is also real, real cute.
A good low-heel black bootie should be a staple in everyone's closet and these are perfect! They're microsuede and comfy enough to take you all the way through your 8-5.
**SN: You CAN wear prints and patterns to work! It's 100% appropriate. These cheetah booties are awesome paired with a black turtleneck dress or pencil skirt as well as these snake boots. Both cheetah and snake are having major moments right now.
(Boot Link – same boot, two colors)
I also think it's good to include a wedge for those more treacherous mornings (read: ice, snow, etc.)
(Boot Link – same boot, three colors)
And on the eighth day, God created the sock boot. I'll admit, when sock boots first came out, I was a little nervous but once I tried them, I was HOOKED. They're incredibly comfortable and somehow turn a black bootie into a fashion statement. Trust me on this… you need a sock boot.
And lest we forget, the trusty cowboy boot. In the South, we don't wear cowboy boots because we're about to go down to the lower 40 and round up our cows. We wear them with dresses, skirts, jeans, shorts, and everything in between. And we wear them to football games, weddings, baby showers, and just to the backyard. This is another shoe I recommend you invest a little money in. Not only will they last longer, they'll look better and once they're broken in, they'll be your best friend. I've had mine for well over a decade and because I took my time finding the right pair, they're still one of my favorite shoes in my ever-growing shoe closet and I return to them time and time again.