A few posts back, we talked about fall/winter appropriate wedding guest dresses but what outfit looks complete without the right accessories?!
One of the great things about more formal, colder weather events is the different fabrics and textures you can play with… I personally gravitate towards velvet but a heavy silk is just as gorgeous! I've rounded up several accessories that create a cohesive, fashionable, and fun wedding guest outfit.
I use crossbody bags for everyday but I really like it when I get to jazz up an outfit with a bit of sparkle or lux patterns. I gravitate towards black in the winter so I have to pull myself into the more cherry, poppy colors so I don't look like I'm working as an extra in the new Adams Family movie.
I've gathered some fun and some classic options but all appropriate for whatever you'd need. I also highly suggest a strap or chain because lugging around basically a small envelope all night is no bueno. Plus, you can hang it off the back of your chair in order to keep it away from the food on the table.
(clutch 1 link . . clutch 2 link . . clutch 3 link)
I also think long earrings add instant glamour and keep all the attention aimed at the right place. If you've ever seen the movie "How to lose a guy in 10 days", you'll know what I'm referring to but I personally like to think of my jewelry as 'frosting.' Now, I can't "frost myself" with the expensive diamonds and rubies in that movie but I can get a pretty good knockoff and at least pretend. Along with the clutches and evening bags, I've also rounded up my favorite earrings to compliment your outfit.
(earring 1 link . . earring 2 link . . earring 3 link)
I'm not one of those people that wears hats to wedding (although, can we bring that British tradition across the pond? Please?) I've been obsessed with hats and fascinators since I first saw Kate Middleton. While that trend is not observed here, the closest thing we can get is the humble headband. Headbands are basically a hat/ fascinator/ tiara, right?
I've been loving the velvet pearl headband look and it's pretty doubtful that my love will die down any time soon. This headband from Amazon is as cheap as you can get it and as cute as the $200 version. It might feel awkward at first if you're not used to wearing headbands but I think they're universally flattering for everyone. They open up your face and keep you from having to push back your hair every five minutes when you're supposed to be focused on the happy couple.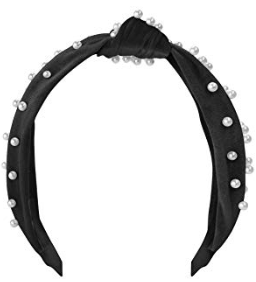 (headband link)
And of course, shoes…. I'm Tess and I'm a shoeaholic.
I counted the other day how many pairs I have and I'm literally too embarrassed to share. It's difficult to say that one pair of shoes will last through every wedding or even go with everything you're wearing. I'm a big fan of a metallic (which as far as I'm concerned is a neutral.) If you can find a warm gold metallic shoe that's comfortable, you may as well buy yourself a lottery ticket because that's a 'feat' (I got the jokezz). However, there are a few basics that are always good to have in your arsenal so that you can throw them on with just about anything.
I always have, on hand:
Nude heel
Black heel
Metallic heel
This trio has yet to let me down and I've listed some options below… I'm also including the designer dupes I wore earlier this week!