This post is for all the ladies who have always been told nude pumps are the way to go. Working in a conservative dress code can leave us clacking around in a rut, wearing out pair after pair of nude heels. And yes, nude pumps are the universal shoe that can go anywhere, and with anything. But if you're walking around in circles, wondering how you're going to freshen up your shoe wardrobe for summer, allow me to introduce you to nude's best friend, white.
My love for white shoes is never-ending. In fact, it may be obsessive. (Think Noah in the Notebook… I'd write my favorite white heels a letter every day if it meant they'd stay perfect forever.)
Whoever "they" are (you know, the ones who say you can't wear white shoes after labor day), are probably the same ones that say you shouldn't eat tacos everyday. "They" are simply misinformed (read: wrong.)
As for me, I wear white shoes year round and I'm here to tell you It. Is. A. Okay. It's easy to stock up on sandals, sling-backs, and pumps during the summer months and surprisingly, this trend carries proudly into the fall and winter months.
The Goods
These crisp white cut out mules are perfect for just about every summer occasion which is why they landed at #1. I love a good chunky heel because I'm constantly moving around despite having a nine to five desk job.
For as much as I love a good stiletto, my heart belongs to the block heel.  And at this price, I'm on my way to the altar.

If your office frowns upon an open toed shoe but you're still into a slip on heel, these Tahari mules are a great option. These have a smaller heel so they'll provide ultimate comfort while being a go-to on those mornings when you're throwing yourself together.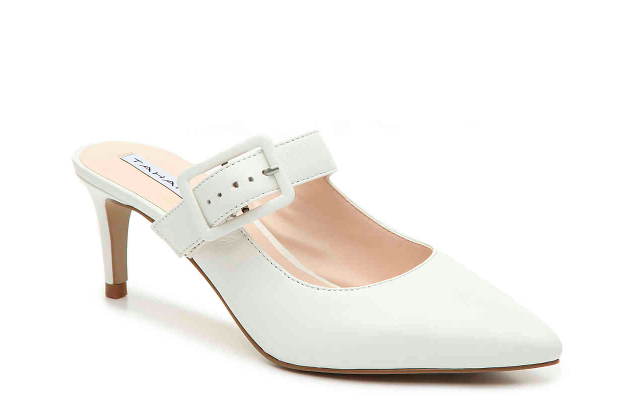 If white is still a little out of your comfort zone, then stick with a more traditional style, like this beautiful Vince Camuto pump. I can personally attest that these babies are not only absolutely gorgeous but comfortable to boot.
At any given moment, I'm probably wearing Vince Camuto shoes and these are no exception. With a high (but not too high) heel, these are the ultimate shoe for summers in the office.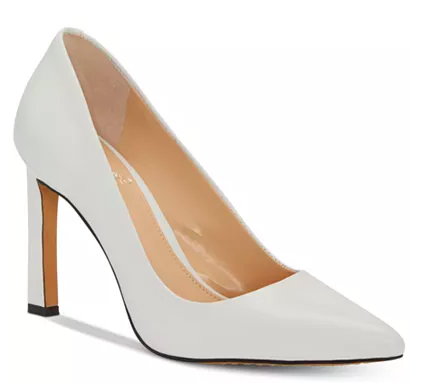 Similar option here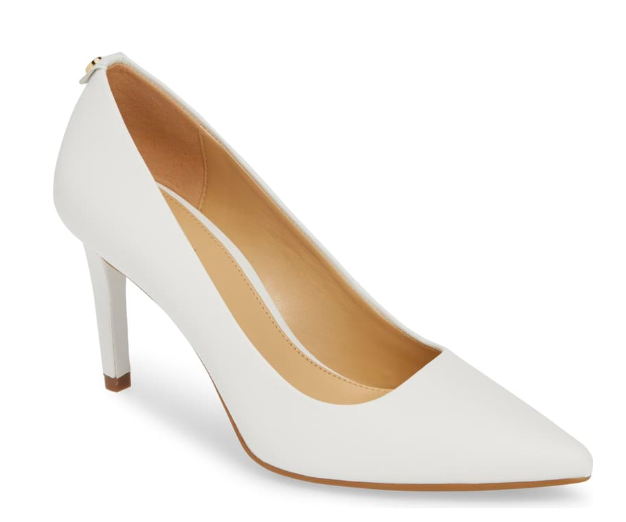 For the heel averse, white flats are just as plentiful as their heeled counterparts. Another brand I'm a huge fan of is Sam Edleman. The quality literally can't be beat at the price point and the styles are classic but always fresh.
These are a personal favorite of mine as they mimic a lot of designer flats but at a fraction of the cost.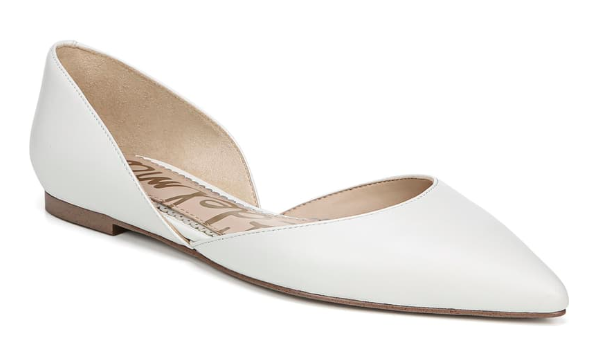 And if you're looking for a basic loafer that you can throw on with a work dress or your weekend jeans, you can't get much better than these babies.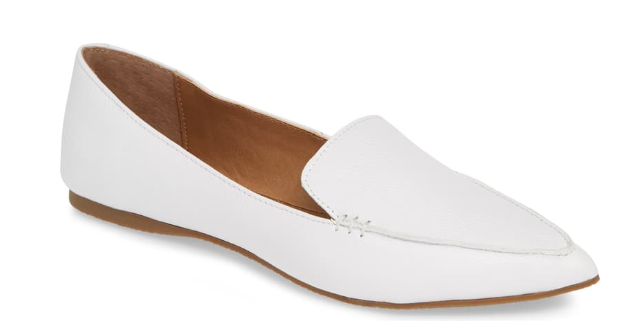 I hope these options give you a starting place to begin your own obsession with white shoes. After all, white is the universal neutral and can pair with any outfit, any time of year, in any circumstance.
T