Ah yes, another shoe post… If you've picked up on the fact that I love shoes, congrats!  You've learned 50% of all you need to know about me. Shoes are the frame to the painting, the Mona to the Lisa, the cheese sauce to the pretzel… you get the idea.  Shoes truly can make or break an outfit.
And while I love wearing a sky high stiletto, I love comfort more.  Especially at events where I'll be on my feet for long periods of time.  Weddings and special occasions are a time you want to be fully present and you don't want the memory of your cousins' wedding to be the massive pain you're experiencing because of some shoe that was "just too cute not to wear."  
Weddings are the ultimate excuse to break out the fancy footwear but those are the occasions where comfort really matters.  Who doesn't love breaking it down on the dance-floor to "Cha Cha Slide" or the "YMCA"? No one if their feet are killing them.
That's why I've gathered a few festive/dressy shoes that will have all eyes on your feet (after they look at the stunning bride, of course) and keep you in the dance game until the very (previously bitter) end.  
The Goods
Nanette Lepore is a constant home run.  This brand has fun, trendy styles while somehow (magically) supplying maximum comfort.  I have several pairs and I've never experienced a single blister or sore foot even after long hours traipsing around.
These gold strappy sandals are truly perfect.  They feature a flattering asymmetrical line created by metallic straps.  The heel is perfectly manageable and these shoes allow for expanding feet which tends to happen when you mix heels, dancing, and delicious wedding cake.  
**side note: The gold on these sandals do err on the bronze side but unless they're up against yellow gold, they'll look perfectly true to color!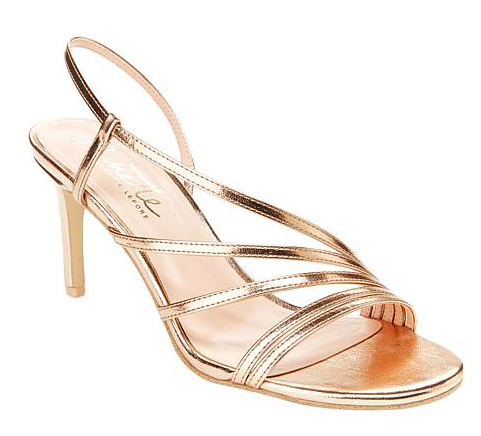 If you're headed to an outdoor wedding where you'll be walking through grass or the elements, a chunkier heel would be a safe bet.  Continuing on our metallic theme are these Nine West slides. They're incredibly comfortable and they can carry you through many an occasion.  
If you're not a gold lady, these also come in silver, yellow, and black. Which means you can buy all of them. Buy. All. Of. The. Colors.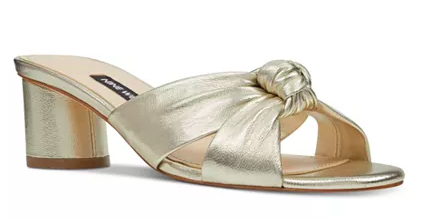 I realize metallic can be a bit "out there" for the more traditional ladies.  A great shoe for outdoor weddings or those serving in the wedding party who actually have a job to do, these Chinese Laundry strappy heels are just the ticket.  I can personally attest that these are the best option on the market and the fact that they're under $50 means you can feel comfortable running these through the wringer.  
Chinese Laundry is a great affordable option and they always have a style for every outfit.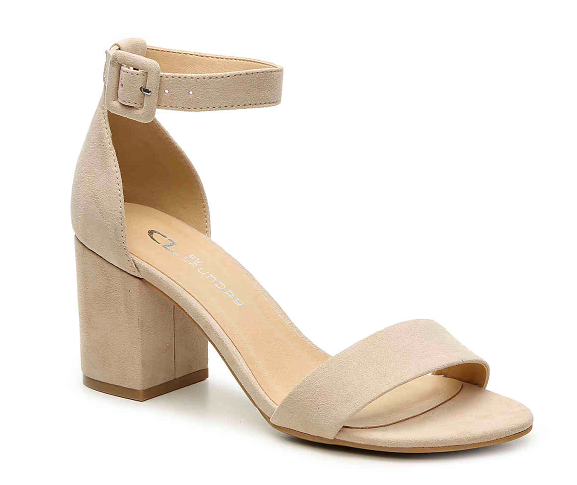 If you're 100% in the flats camp, there are just as many evening/special occasion options out there.  These elegant satin slip ons are absolutely stunning but won't keep you from enjoying the party.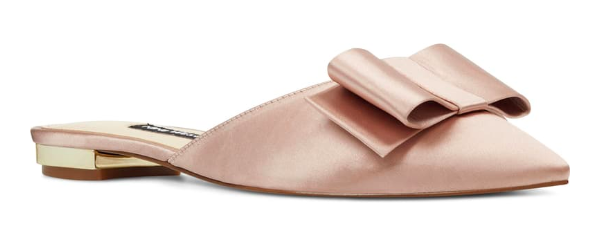 And one more option for our flat footed friends are these AMAZing AMAZon finds – I love them because they're an obvious copycat of the famous Sex and the City Manolo Blahnik wedding shoes.  What I love even more about them is that they're 1/20th of the price AND they come in six gorgeous, lux colors.