(Dress: J.Crew Factory – Jacket: J. Crew Factory – Pumps: Vince Camuto)
From May to August every year, we Southerners have to deal with hot, sticky, humid weather that offers very little (if at all) relief.  Enter the official uniform of the South. Seersucker has long been a part of my wardrobe and that probably won't ever change.  
My mother used to dress us in that famous blue stripe for Sunday church, weddings, family gatherings, and even just going to the grocery store.  It's a timeless fabric and pattern that comes in endless styles, colors, and cuts. And provides a way to look hawt in spite of the heat.
For further explanation of our favorite fabric, see this article from the bible Southern Living.
Best of all, it transitions from casual street wear to the office with a little bit of creativity.  From the minute I laid eyes on this dress, I was in love. It's absolutely perfect for those dead-of-summer days (ie today) that make you want to lay on a cold floor under a fan forever.  I've also paired it with this white linen blazer as the office can get chilly and a jacket adds a professional polish.
And continuing my obsession with white shoes are these Vince Camuto pumps that finish off this classic look.  (BTW, these pumps are very comfortable and I highly recommend them.)
I've linked several other options here, here, and here.  Whether you're in the South or not, seersucker should be a part of everyone's summer wardrobe.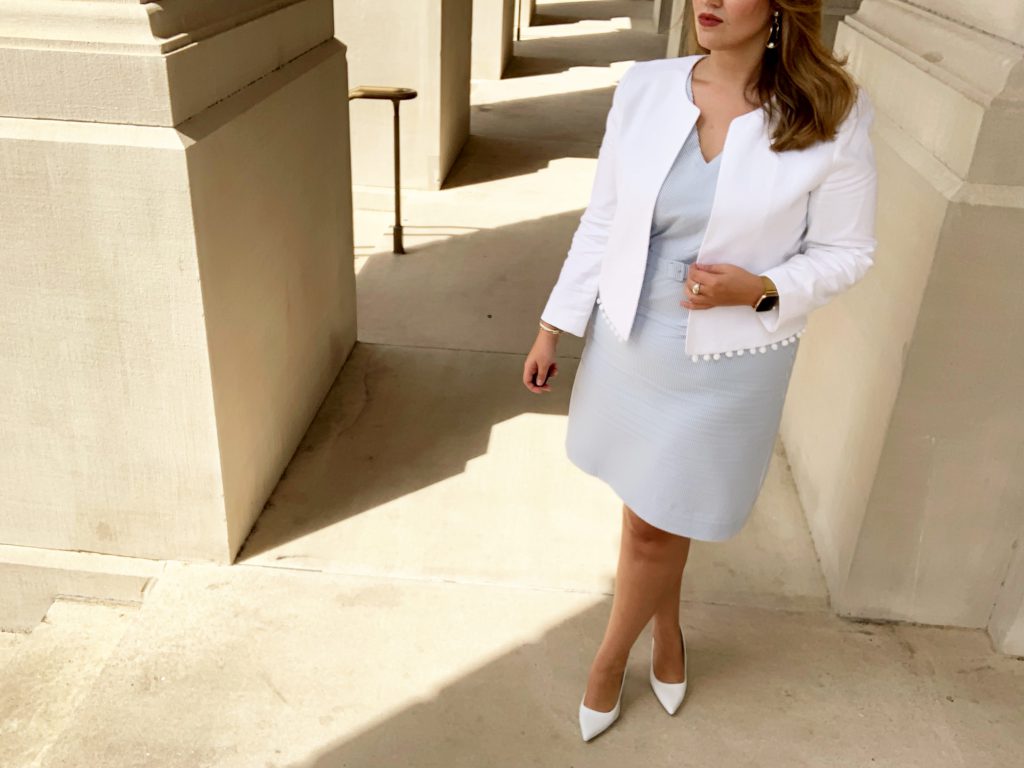 (Dress: J.Crew Factory – Jacket: J. Crew Factory – Pumps: Vince Camuto)